Vittamax Mom Vanilla Flavour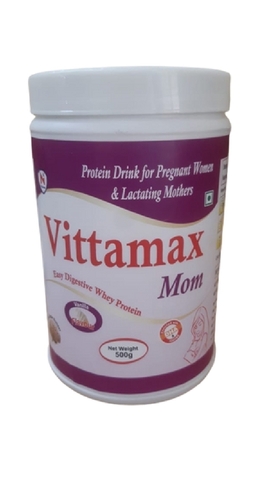 Vittamax Mom Vanilla Flavour
Product Description
Vittamax Mom Powder -Vanilla Flavour Nutritional Supplement for Pregnant women & Lactating mothers
Vittamax is a complete Nutritional supplement for pregnant women & Lactating mothers. It contains whey protein which contains all essential and non-essential amino acids which are basic buildings blocks of our body.
Nutritional information:-
DHA: Is an essential fatty acid required for optimal development & function of the brain, eyes & central nervous system of your child & makes proper development of foetal brain.
Iron: helps to prevent anemia.
Folic Acid and Zinc: ensures proper foetal development.

Iodine: for the prevention of IDD (Iodine deficiency disorders) &helps in brain & nervous system development.
Calcium & Vitamin D3: Develops strong bone & teeth of child.
Protein: It contains all essential amino acids which help in muscle building & growth.
Vitamin A & E: Important for healthy skin & eyes.
Vitamin B1: Helps in releasing of energy.
Vitamin B2, B6 & B12: For blood & bone health.
Direction For use:
1. Take a glass/mug of lukewarm/cold milk or fruit juice or water.
2. Add two teaspoon or more of Vittamax Mom.
3. Add sugar if desired then stir well and DRINK.
Product Details
| | |
| --- | --- |
| Shelf Life | 1Years |
| Packaging | Plastic Container |
| Form | Powder |
| Features | Good For Health, Non Harmful |
| Types Of Whey Protein | Isolate |
| Flavour | Vanilla |