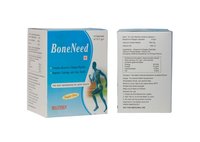 BoneNeed
Price And Quantity
Product Specifications
Dietary Supplement

BoneNeed
Sweet

10 gm Protein per sachet
Old-Aged, Adults

10.7 g Grams (g)
Product Description
Bone Need is a perfectly matched combination of Bioactive Collagen Peptides, Calcium Citrate Malate and Vitamin D3 for your Bones & Joint health. Bioactive Collagen Peptide is the hydrolyzed form of collagen protein which is found in our body about 30% of total protein. Collagen protein maintains the strength of cartilage in joints and bones.

Properties Of collagen Peptides
Â
1.   Highly Purified and Digestive protein.
2.   A natural product
3.   Functional Food supplement
4.   Water soluble
5.   Contains 95% protein
6.   No preservative
7.   Does not contain any Fat and Cholesterol
Â
Calcium Citrate Malate is water soluble calcium; it is the calcium salt of Citric acid and the Malic Acid. It is the best absorbent 22% to 27% whether takes with food or empty stomach.
Â
Calcium plays a very important role in our body. It is necessary for normal functioning of nerves, cells, muscles and bone. If there is not enough calcium in the blood then the body will take calcium from the bones there by weakening the bones.
Â
Vitamin D3
Â
Vitamin D3 is different from other essential vitamins because our own body can produce it with sunlight exposure. The main function of vitamin D3 is to regulate the absorption of calcium and phosphorus in our bones and aid cell to cell communication throughout the body.
Â
Who can take BoneNeedTM
Â
BoneNeed can be effective protein for:
·        People with Osteoarthritis
·        The elderly people
·        People who are living less sedative life
·        People involved in high physical activities like dancers, sports persons etc.
·        People who are fatty or overweight.
BoneNeed is clinically Proven and Safe:
Bioactive collagen peptides in BoneNeed are clinically proven and safe product and are widely accepted as an effective supplement for joint health. It does not contain sugar and cholesterol and therefore is suitable for people who are diabetic and having high cholesterol.
Quality Assured:
BoneNeedTM is a product manufactured by Nutrex Nutraceuticals by the technology provided by the world leader in manufacturing of gelatin and collagen peptide. BoneNeed is manufactured under hygienic condition and following Good Manufacturing Practices (GMP) having central license from Food Safety and Standard Authority of INDIA.
How it works?Â
The bioactive ingredients in BoneNeed (Collagen Peptide, Vitamin D3, and Calcium Citrate Malate) get absorbed through the blood, stimulate the anabolic phase of chondrocytes, and initiate the repairing process thereby restoring joint health.
The unique amino acid combination of BoneNeed promotes cartilage health and helps to maintain the flexibility and mobility in joints.Â
Each Sachet of 10.7 gm. Contains Approx.

Collagen Peptides

                       10gm

Calcium Citrate Malate

                      500mg

Vitamin D3

                     400 I.U.

Contains: Sucralose (Artificial Sweetener) and Orange Flavor
Â
Nutritional Information

Â

(Approximate Values)
Each serving (per 10.7 g)

  Energy

  Protein

  Carbohydrate

   Fat

          40.0 Kcal

    10.0 g

   0.0 g

    0.0 g
Dosage:
Take one sachet of BoneNeedTM (10.7g) daily for a minimum of 3 months. It is recommended to consume the
Product one hour before food (on an empty stomach) at night, for better results.
Directions For Use:
1.      Empty full sachet of 10.7 gm. into a glass.
2.      Add 100 ml. of normal water or juice.
3.    Stir well until the powder is evenly dispersed in the water/juice and DRINK IMMEDIATELY.
Â